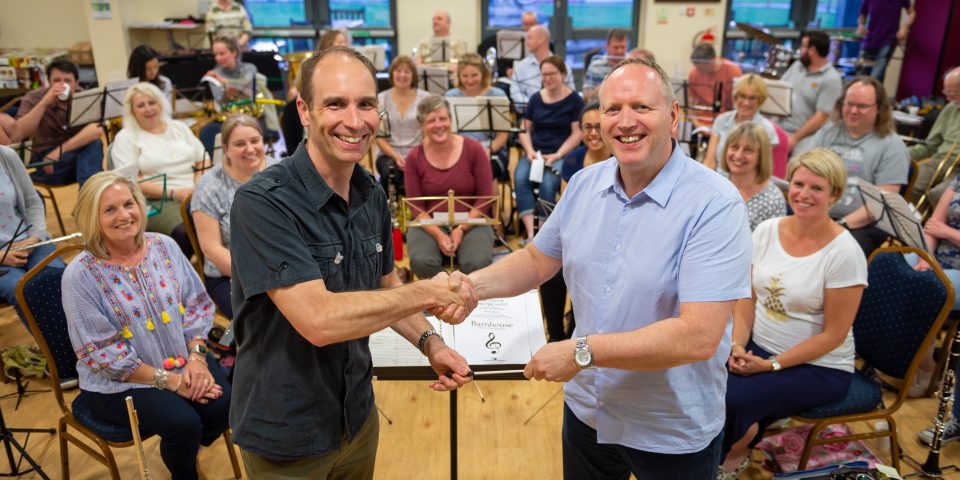 After 16 years as Musical Director of Huntingdon Concert Band (HCB), David McClintock is passing on the baton, as he begins a well-deserved sabbatical.
David has built an incredible legacy over the 16 years while directing the band. He joined the band as a horn player before taking up the baton to develop the band to give the performances you will hear today. David has challenged the band immensely, with great results. In addition to performing c.8 concerts per year, the band has produced 2 CDs, a live recording and 4 military massed band concerts (with another in the pipeline for this November). David has created a hard-working ethos and discipline within the band which leads to the incredible performances enjoyed by audiences across the county.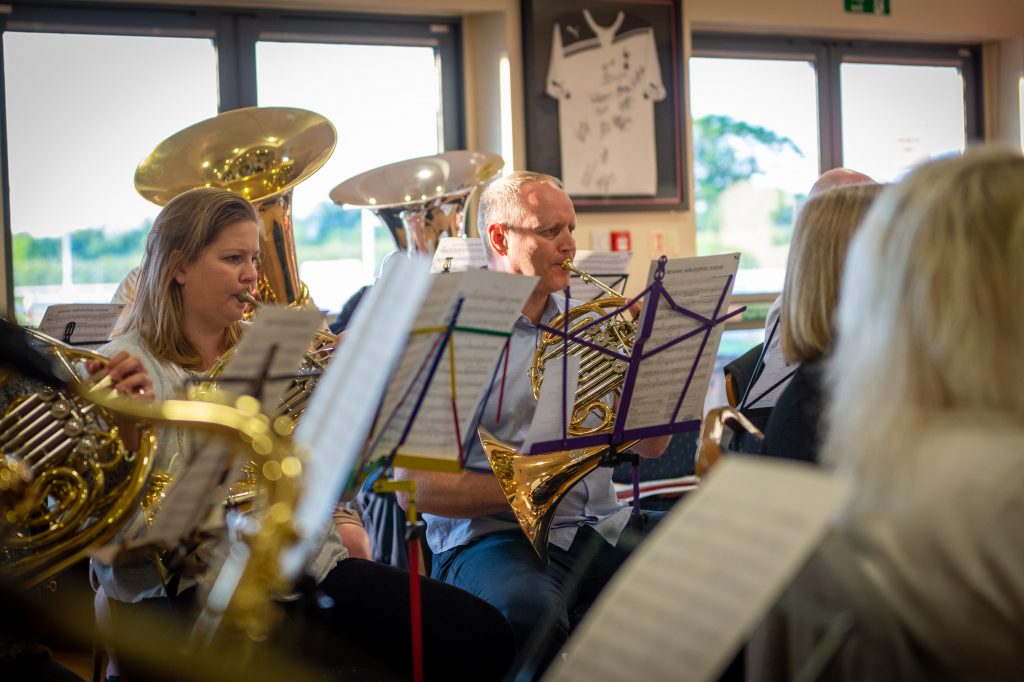 On handing over the baton, David says "I'm immensely proud of HCB and all that it is, but under the very talented musical direction of Ben Mason and the superb chairmanship of Cathy & the Committee, it will only continue to make me proud to have been a small part of what we've achieved." Eagle-eyed audience members may well see David in the audience at future concerts during his sabbatical supporting the band.
"I'm immensely proud of HCB and all that it is…"

David McClintock
Ben Mason grew up in East Anglia before starting his military music career as a professional trombonist and pianist within The Band of The Grenadier Guards.  Then followed a Bandmaster course at Kingston University including a conducting course at The Royal Military School of Music.  Since then, Ben has spent his years within the military as Bandmaster of The Band of The Queen's Division, Bandmaster of the Royal Artillery Band Orchestra and The School Bandmaster of The Royal Military School of Music – The British Army's Senior Bandmaster post.  Ben is currently a Commissioned Officer (Director of Music) serving with The Corps of Army Music.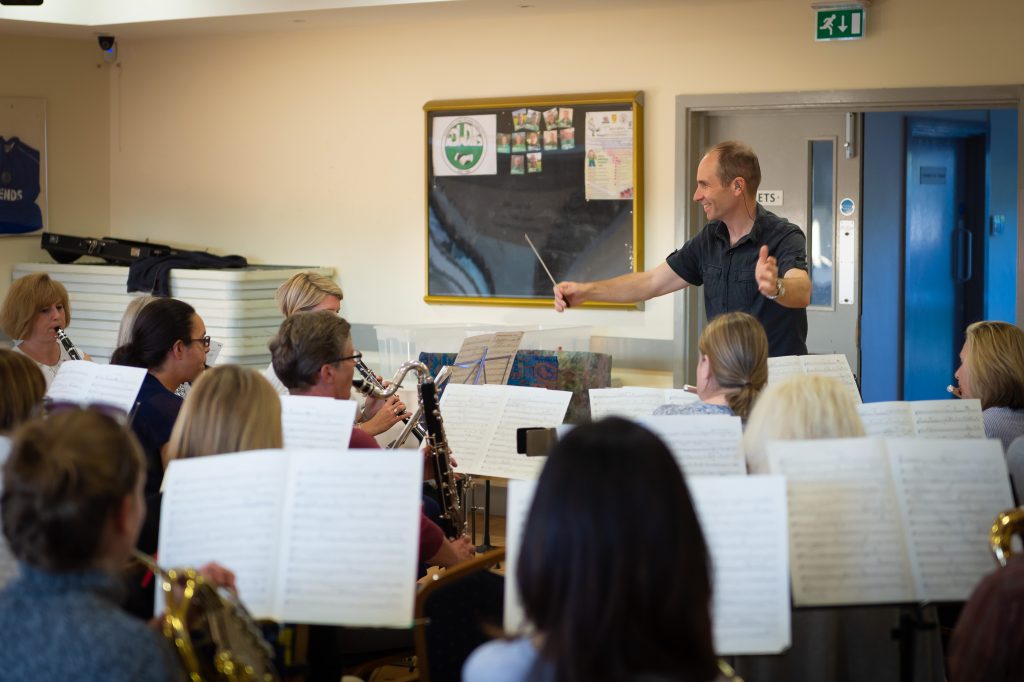 Outside of his military music commitments, Ben previously held positions as Musical Director of Cambridgeshire Youth Wind Orchestra and Belvedere Concert Band. He is currently Associate Conductor of Watford Philharmonic Orchestra and Choral Society as well as working extensively with various youth and community projects. It goes without saying that HCB feels immensely lucky to be included in Ben's current (very busy!) portfolio of musical commitments.
Chairperson Cathy McClintock says "It's an absolute pleasure to have Ben as our Musical Director, knowing that he shares our spirit and ethos as a 'force for good' within the community."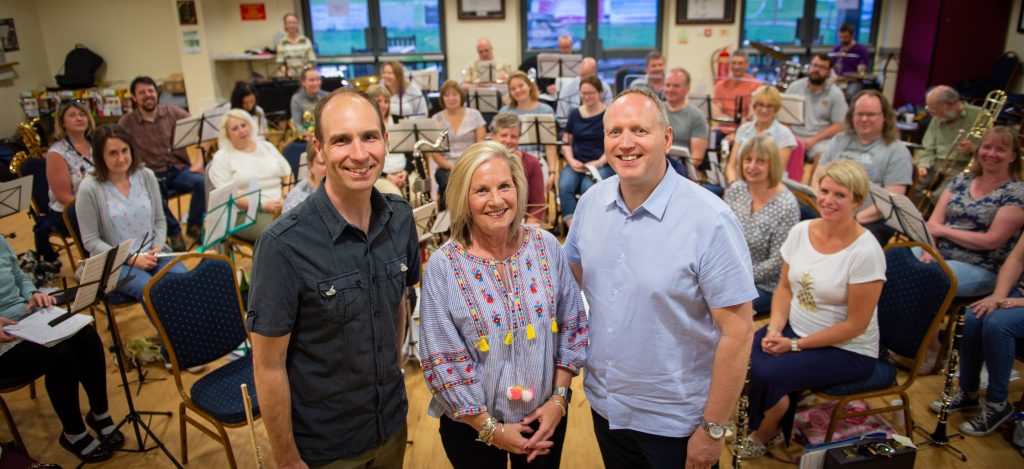 HCB perform concerts regularly to raise money and awareness for local organisations and charities. Many of the band members are also Dementia Friends, meaning they are proud to provide a safe and enjoyable atmosphere for local members of the community who are living with Dementia.
"It's an absolute pleasure to have Ben as our Musical Director"

Chairperson Cathy McClintock
HCB's first concert under the baton of new Musical Director Ben Mason will be the 25th annual concert in aid of the RAFA Wing's Appeal on Saturday 14th September 2019 at the Free Church in St.Ives. Ben says 'I'm delighted to pick up the baton from David for this evening of music and a salute to all 'Heroes Of The Sky'. I look forward to developing the band in line with David's approach, focussing on the shared enjoyment that making music in a collective, fun environment brings."