Our History
Huntingdonshire Concert Band has been rehearsing and performing in the Huntingdon area for nearly 30 years, having been set up by renowned local musician Laurie Hurst.  It's one of only 3 concert bands in Cambridgeshire and as such, enjoys very good audiences at the 10 concerts each year.
Concert repertoire ranges in style from military marches, to film and musicals, to swing and big band jazz sounds, but also more challenging symphonic sounds, often only heard at orchestral concerts.
The band was formed in 1993 at the request of former youth band members as there was no adult concert band in the area. The band founder, Laurie Hurst served as a musician with the RAF for 25 years. The band still play from many of his arrangements.
Carole Lewis developed the band from 1994 to 2004 during which time the band grew in numbers and stature.
The current Musical Director, David McClintock has been at the helm for 17 years now, directing the band's 50-or-so weekly rehearsals and 8 concerts each year. David's dedication and thorough approach has not only greatly improved the band's musical performances but has also led to the production of 2 different CDs of popular band repertoire, which are sold at concerts during the year to raise band funds.
HCB is a member of BASBWE (the British Association of Symphonic Bands and Wind Ensembles) and benefits from advice and new ideas.
Charitable works
As a local community wind band we support numerous charities, both in the Huntingdon area and nationally, by giving fundraising concerts.  Please see our Charities page for further information.
Band Workshop days
We also have an annual Workshop Day, where two or three major works are studied in depth under the direction of a visiting conductor.
Previous conductors have included:
Paul Neville (formerly Director of Music of the Royal Marines)
Guy Woolfenden (Chairman of BASBWE, formerly Musical Director of the Royal Shakespeare Company, Professor at the Guildhall, and a well-known composer for wind band)
Philip Sparke (composer of much brass band and concert band music)
David Cole (also a former Director of Music of the Royal Marines)
Ben Mason (Director of Music, Corps of Army Music)
Major Bruce Miller (Musical Director of the Band of the Irish Guards)
Workshop days are beneficial both socially and musically.  The band gets the chance to focus on an often difficult work in great depth, with a new conductor but the hard work is balanced by frequent tea & coffee and lunch breaks (for cake!).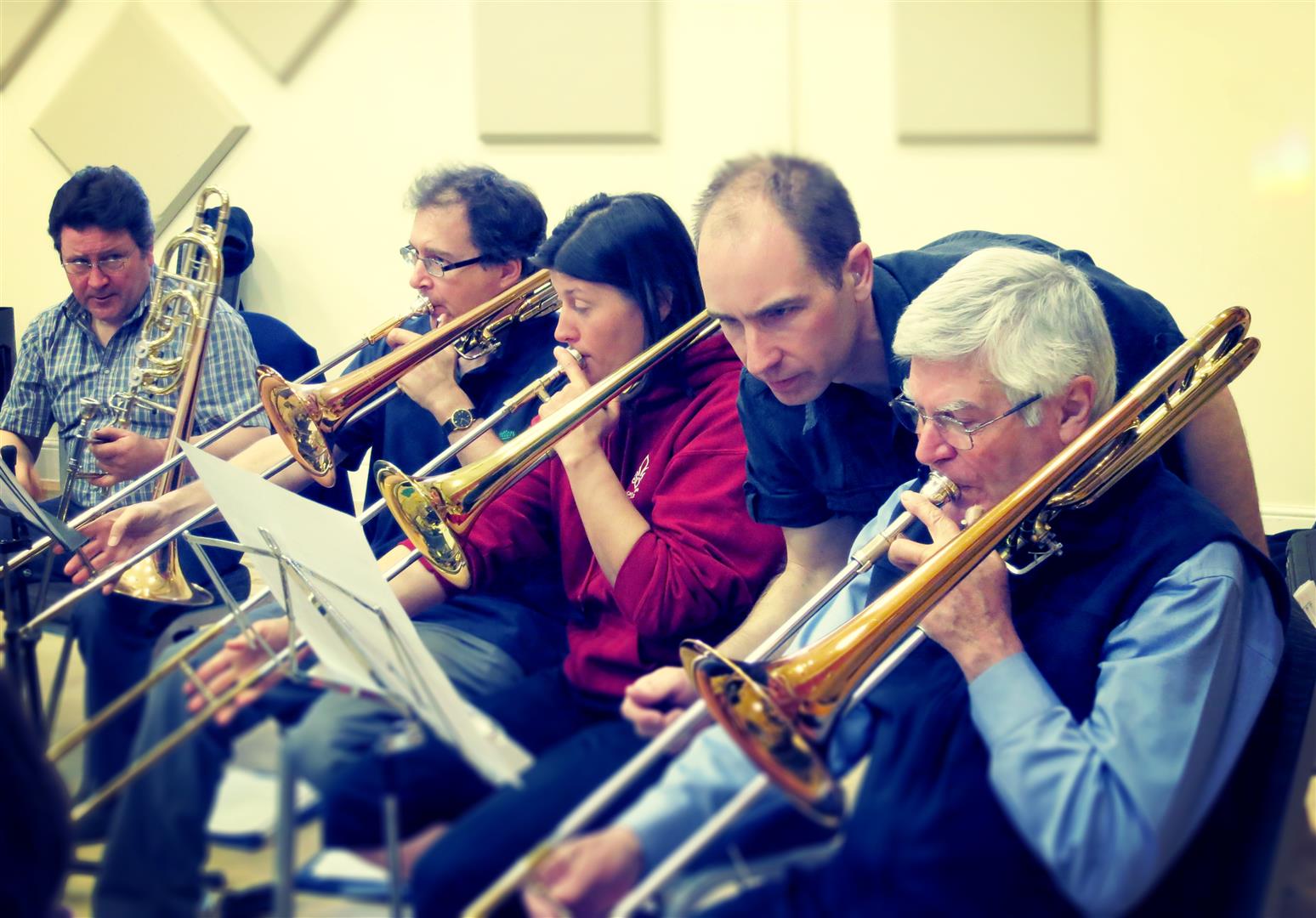 Socials
We're quite a sociable lot, so a small Christmas party usually concludes the final rehearsal before Christmas, and often one of the late July rehearsals is usually given over to a social event of some sort.