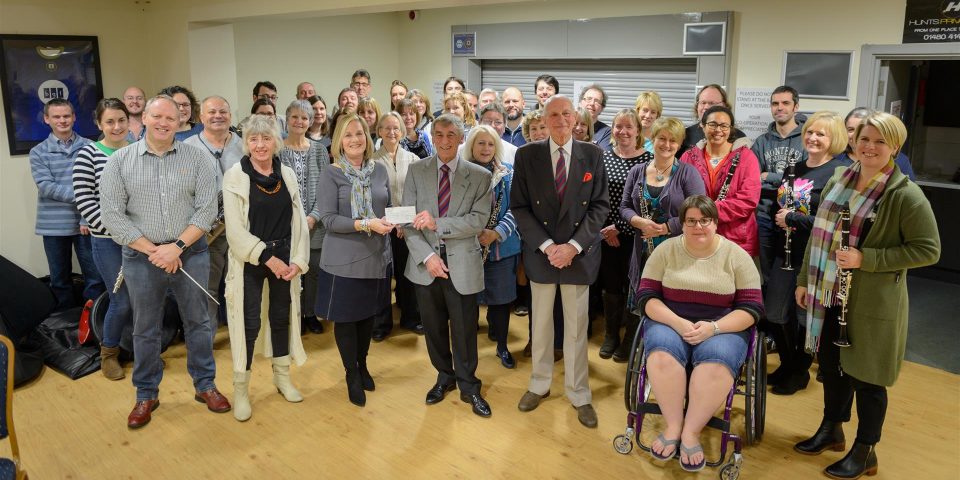 The Huntingdonshire Concert Band ( HCB ) were delighted to present last week a cheque to SSAFA ( the Soldiers, Sailors, Airmen and Families Association- Forces Help ) after raising a net £5000 at their Massed Band Concert with the Band of the Irish Guards 18th November 2017. This brings the total sum raised for SSAFA to over £29,000 since these concerts were inaugurated in 2009.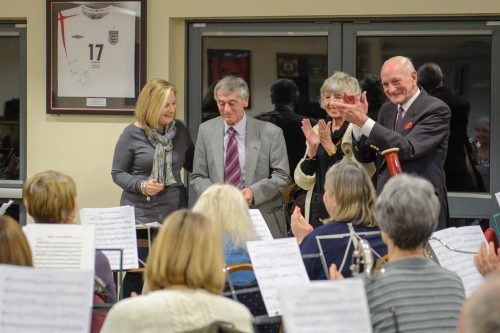 The concert at the PAC Hinchinbrooke featuring 80 musicians was a sell out and voted the most successful ever by audience and players alike. It also marked the final concert for Major Bruce Miller, Musical Director for the Irish Guards, who retired in 2017.In fact, after opening with the march a Huntingdon Celebration specially commissioned by HCB with Philip Sparke to mark their 10th anniversary in 2002, the concert included several Irish pieces arranged by him for the Trooping of the Colour and other musical engagements for the Palace.
In thanking the Band for a magnificent effort Mr Peter Scott, Divisional Secretary of SSAFA Huntingdon and East Cambridgeshire, said this concert must be the highlight of the four concerts to date, underlining the close friendship and working relationship that had built up between SSAFA and HCB since they first started in 2009.
SSAFA's Press and Publicity Officer, Wing Commander Bob Carr OBE RAF ( retired ) also praised the hard work put in by David and Cathy McClintock , Musical Director and President of HCB, to make these concerts such an outstanding success as well as the high standard of musicianship and first class entertainment provided for appreciative audiences which had enabled SSAFA to raise its profile and the important work it undertakes.
See photos from the concert here: http://www.hcband.co.uk/galleries/massed-bands-concert-2017/