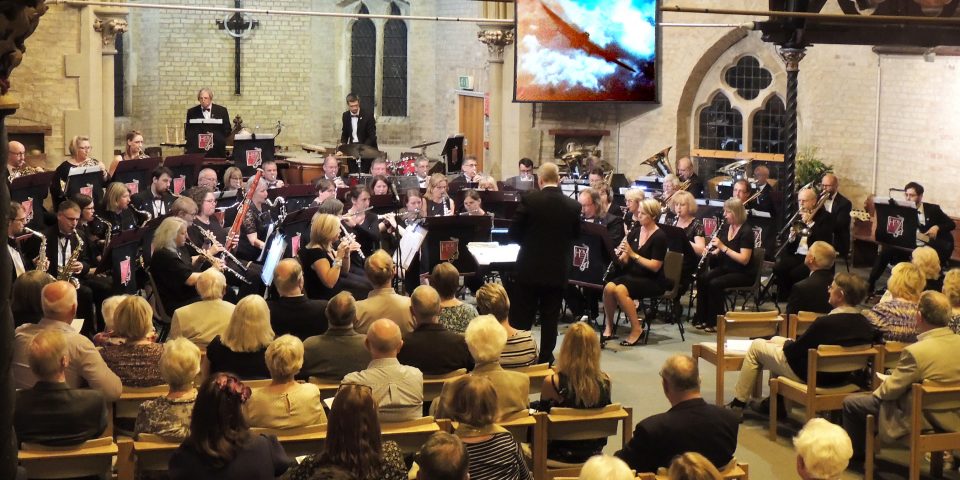 It's not often that after doing something for 24 years in a row, that you get praised for something new and different.
Our latest concert, in celebration of 100 years of the RAF, was for the RAF Association Wings Appeal (RAFA) in St.Ives Free Church.
This is our most longstanding concert, 24 years to be precise! And over this time our MDs have chosen music appropriate to the occasion but also tried to vary the programme to ensure its wasn't just full of marches!
On this occasion, David McClintock, HCB's current Musical Director mixed up the traditional RAF March Past and The Dam Busters March with more symphonic Wind Racers and In Flight and even invited along local singer Chloe Grimes to sign alongside the band for an arrangement of wartime songs penned by the founder MD of HCB and RAF Veteran, Laurie Hurst.
Amongst this already entertaining programme was a show-stealingly unique rendition of The Great Escape (complete with stage theatrics).
The concert was made even more memorable with a series of moving images alongside some of the pieces, which in some cases, moved audience members to tears.
RAFA Huntingdon & District Branch Chairman Simon Ellis congratulated MD David with a small dare for next year…..
Just a few words to thank you and your 'crew' for your performance on Saturday night, absolutely brilliant.

I, and the audience, particularly enjoyed the 'Great Escape' – a novel way of ending the first half! Perhaps El Director left on his own playing the mouth organ would get an even bigger laugh! That's a dare for you David!

Anyway, once again, thank you all for your continued support of our branch of the RAFA, it is very much appreciated and all the money raised does so much good on our welfare side.
Watch this space for an update on how David's mouth organ skills develop ready for next year's concert!